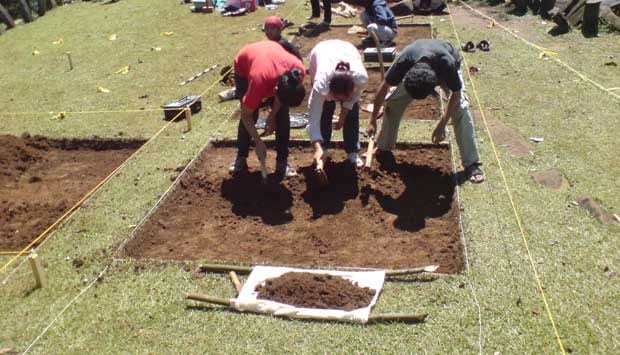 Archaeologists in West Papua have discovered archaeological remains on a settlement site situated on a strategic location overlooking the Cendrawasih coast. Finds include numerous colonial period artefacts – European and Chinese ceramics. [Many thanks to Hari Suroto, who is also quoted in the article, for the heads up].
Archaeologists Discover Ancient Settlement in Papua
Tempo, 29 March 2015
Archaeologists in Napan District, Nabire Regency, Papua Province, have discovered a Mosandurei site which is an ancient settlement.

"The ancient village Mosandurei was discovered during the process of an archaeological research, said researcher staff of Jayapura Archaeological Station, Hari Suroto, in Jayapura, Papua, on Saturday, March 28, as quoted by Antara News.

According to Suroto, stone tools beads, Chinese ceramic from Ming and Ching Dynasty (XVI-XVII, XVII-XVIII centuries), European ceramic wares, bottles, and earthenware.

"Manufacturer stamps are found on the European ceramics, namely Fregout & Co Saastrusht Dragon Made in Holland and Petrus Regout & Co Maastricht made in Holland," Suroto added.
Full story here.