Dr Evans' quote nicely sums up the outrage and dismay felt by Cambodians over the plans to build a replica Angkor Wat.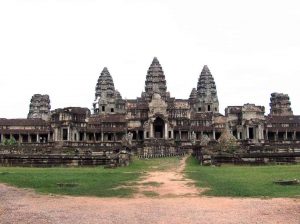 Cambodia outraged at plans for Angkor Wat replica in India
Canberra Times, 20 March 2012

The director of Sydney University's archaeology project at Angkor Wat, Damian Evans, said Cambodians are predictably outraged about the project, "as I am sure Indians would be if a nearby country decided to build a clone of the Taj Mahal".

Dr Evans said building a replica showed a "remarkable lack of cultural sensitivity by this group in India, considering how central Angkor Wat is to Khmer [Cambodian] national identity".

Angkor Wat was built by King Suryavarman II as his state temple and capital city in the 12th century. Originally the 82-hectare temple complex was dedicated to the Hindu god Vishnu before being used for Buddhist worship after the monarchy converted to Buddhism.

The main sandstone temple is depicted on Cambodia's flag and is a source of great national pride.
Full story here.