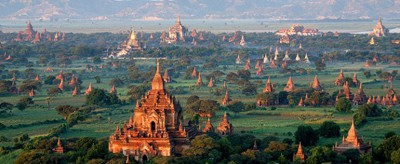 Myanmar's Minister for Culture notes the ongoing challenges to put Bagan on the Unesco World Heritage List.
Bagan needs assistance to save heritage
TTR Weekly, 28 September 2015
Myanmar's Minister for Culture says Bagan is facing challenges to preserve the area's heritage.
Union Minister for Culture, U Aye Myint Kyu, told local media during a workshop, late last week, that technical expertise, communications and cultural understanding were crucial for Bagan if it is to save its heritage.

"There is a need to make sure heritage conservation management is in line with UNESCO's policy, as well as taking on board experts from ASEAN member states in conserving Bagan's cultural heritages and work for enlisting Bagan in the world heritage list."

Bagan Archaeological Zone covers about 42 sq km (16 miles) and has more than 3,000 pagodas.
Full story here.