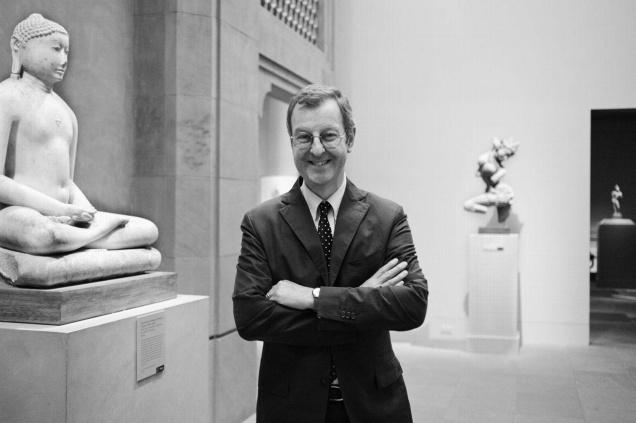 A profile of Dr John Guy, curator of South and Southeast Asian Art at the Metropolitan Museum of Art.
A detective across centuries
The Hindu, 14 February 2015
The remarkable object on the screen is one of these clues — a yupa stone found in Eastern Borneo that dates back to the fourth century AD. The Sanskrit inscription describes the sacrifices performed by a local king called Mulawarman. "The inscription is in grammatical, perfectly good Sanskrit," says John Guy, while delivering the Vasant J. Sheth Memorial Lecture during which he uses antiquities to offer a glimpse into the world of the intrepid Tamil traders who ruled the waves before the Gujarati merchants arrived on the scene.

"The Sanskrit inscriptions indicate that local rulers in Southeast Asia employed South Indian Brahmins as advisors and counsellors. The Brahmins were the mechanisms through which the inscriptions and objects of Vedic ritual landed up in these improbable, remote places. There was clearly an Indian presence in Southeast Asia, not just of ideas and religion but of people as well."

John Guy should know. He is the curator of the Arts of South and South East Asia at the Metropolitan Museum of Art in New York. Besides building collections and organising blockbuster exhibitions, he acts as a detective across centuries. "I try to reconnect an object with its forgotten history," he says, pointing out that sometimes all that remains of kingdoms and cultures are a handful of coins and seals, or a few crumbling sculptures. "We can read the past only on the basis of what has survived."
Full story here.