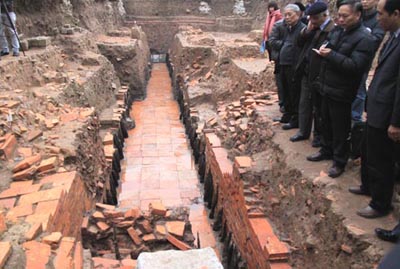 Archaeologists working at the Thang Long Citadel in Hanoi discover the remains of Ly Dynasty architecture and water system beneath the existing foundations.
Vestiges of Ly Dynasty found at Thang Long Citadel
SGGP, 27 December 2012
Many more relics revealed under Thang Long Citadel
Vietnam Net, 28 December 2012
Ancient water system found at Citadel
Tuoi Tre News, 28 December 2012

Archaeologists have discovered architectural traces of the Ly Dynasty at a 500 square meter excavation site in the central area of Thang Long Imperial Citadel in Hanoi.

This was announced by the Thang Long Hanoi Heritage Conservation Center and the Institute of Archaeology at a conference in Hanoi on December 26.

The excavated site uncovered a large waterway and a 1.6m wide foundation base of a wall which runs parallel with the waterway.

The brick laid waterway is 2m wide and 2m in depth, which scientists believe to be part of either a reservoir, well, pond, tunnel or a spiritual sanctum.