Now that Myanmar is opening up, we should expect to read more travel features about Bagan and other archaeological sites there.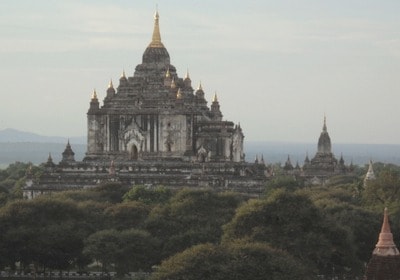 Mingalabar Myanmar
The Star, 03 November 2012

There are over 4,000 temples, pagodas, sacred caves, etc, in Bagan (an hour's flight from Yangon) which contain Buddha statues and ancient murals depicting the 550 past lives (Jataka) of the Buddha and the rise of the Bagan civilisation

…

The Kingdom of Bagan, established in the 7th century after the amalgamation of 19 villages, flourished under King Anawrahta in the 11th century. Bagan had 55 rulers and Anawrahta was king No.42. He introduced Theravada Buddhism to the people after renouncing an earlier and darker version of Buddhism which required virgin brides to sleep with the priest first. Under his rule, fortunes grew and wealthy merchants built the temples and pagodas you see today.

"A jade merchant recently requested permission to build an all-jade temple in Old Bagan, but the government turned him down," said San Win, "because development and habitation are not permitted in this part of Bagan."
Full story here.