The Sarawak Museum announced a plan to repatriate a set of bones from the Niah Cave that were placed in the custody of the University of Nevada, Los Vegas (the article writes Los Angeles?) in the 1960s.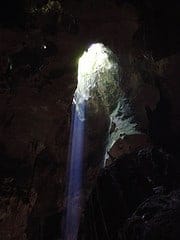 photo credit: amanderson2
Sarawak Museum hopes to bring back Niah Caves relics from US
Borneo Post, 24 February 2012

Sarawak Museum hopes to bring back the skeletal remains dug up in the Niah Caves which are kept in a university in the United States in two or three years from now.

If Sarawak Museum could acquire the bones from University of Nevada, Los Angeles, museum director Ipoi Datan yesterday disclosed that the remains and other historical digs would be placed in Petroleum Museum on top of Canada Hill here.

According to Ipoi, 122 bone pieces were kept in the university for research purposes by archaeologists. The bones and historical relics were dug up by archaeologists in the west wing of Niah Caves between 1957 to 1967 and were then shipped out to United States for research purposes.

Ipoi said the museum department was making necessary preparations to place the relics in the left wing of Miri Petroleum Museum. The preparation would include renovation and building a special room to display the remains.
Full story here.