A farmer in Vietnam is featured for his collection of ancient sculpture, about a hundred in total, many of which are said to be from the Oc Eo area in the Mekong River Delta. Oc Eo was a major port of the Funan kingdom, centred in South Vietnam from the 1st to the 7th century. While the farmer sounds like he's doing his bit to preserve his heritage and history, I wonder if he'll be open to scholars examining his collection. It sounds like many of the statues were recovered from uncontrolled excavations.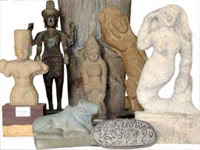 Hoarding history
The Voice of the Armed Forces and People, 14 March 2009

A Mekong Delta farmer's collection of antiques is worth a small fortune but he has no intention of selling any of them. Phu Khoi meets an obsessive and possessive collector.

…

Doing a sum in his head, Ta Man believes he has collected about 100 Oc Eo antiques made from bronze, wood, stone and terracotta. Some foreign collectors have offered $30,000 to $50,000 for some items, but he has refused to sell any of them. If he sold just one of these precious statues he would be able to buy a bigger house for himself but Ta Man sees himself as a protector as well as a collector.

Once he fixed up a statue of Vishnu for a collector in Ba The district, An Giang province. He asked if he could buy it but the owner turned his bid down. A year later he was distraught when he spotted the same statue on the front cover of an antique magazine with its arm broken.

Over the years he has sold bits of his farm land just to buy antiques. Now all he wants to do is protect his collection, though he is always happy to show it off. "I am saving up to set up a coffee shop in Can Tho city where my antiques will be displayed. I will be a volunteer guide for all my customers," he says like a proud father.