A sandstone statue of the Hindu god Murugan will be on display at the Ha Tinh Province Museum. The statue is attributed to the Champa culture and dates between the 10th and 12th century.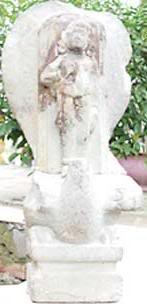 Ha Tinh Museum to host ancient Champa statue
Vietnam Net Bridge, 04 March 2009

The Skanda, originally named Murugan (God of War), is a popular Hindu deity among Tamil Hindus, and is worshipped primarily in areas with Tamil influence, especially South India, Sri Lanka , Malaysia, and Mauritius.

…

The statue is located at Phong Phan Pagoda and is believed to date back to the ancient Champa culture, 10th -12th Century.