A grave site laden with stone tools, necklaces and bracelets has been discovered in Vietnam's northeastern Quang Ninh province.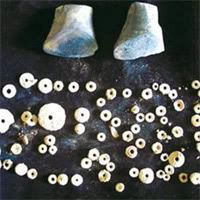 Old grave found
Quan Doi Nhan Dan, 02 Feb 2009

A grave complex from the time of prehistory has been found at the rice archaeological site of Dong Trong Cave in Van Don, Quang Ninh Province.

Archaeologists from the Archaeological Institute collected more than 2,000 stone relics such as axes, graters, quadrilateral axes, skillful necklaces and bracelets.

Notably, some of the newly-found cord-marking ceramics had patterns that are typical of the Ha Long Culture.

Related Books:
– The Bronze Age of Southeast Asia (Cambridge World Archaeology)

– The Archaeology of Mainland Southeast Asia: From 10,000 B.C. to the Fall of Angkor (Cambridge World Archaeology)