The Hanoi antiquities festival reported last week saw a total of over 1,000 items auctioned. Collectors from different parts of Vietnam gathered together to display and sell some of their most prized artefacts.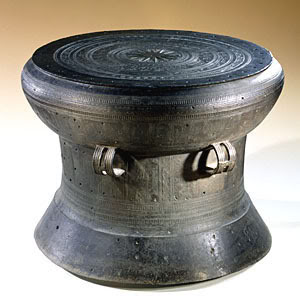 Hanoi auctions over 1,000 valuable antiques
Vietnam Net Bridge, 21 January 2008

… although I'm pretty sure the Dong Son Drum was not 58 metres wide (cm sounds more like it).
The most attractive ancient artifact is probably the 58m-diameter Dong Son bronze drum, 48 meters in height, whose starting price was VND120 million (US$7.507) and the 23,5-cm bronze jar carved with boats, men and fish with a starting price of VND80,000 million (US$5,005).