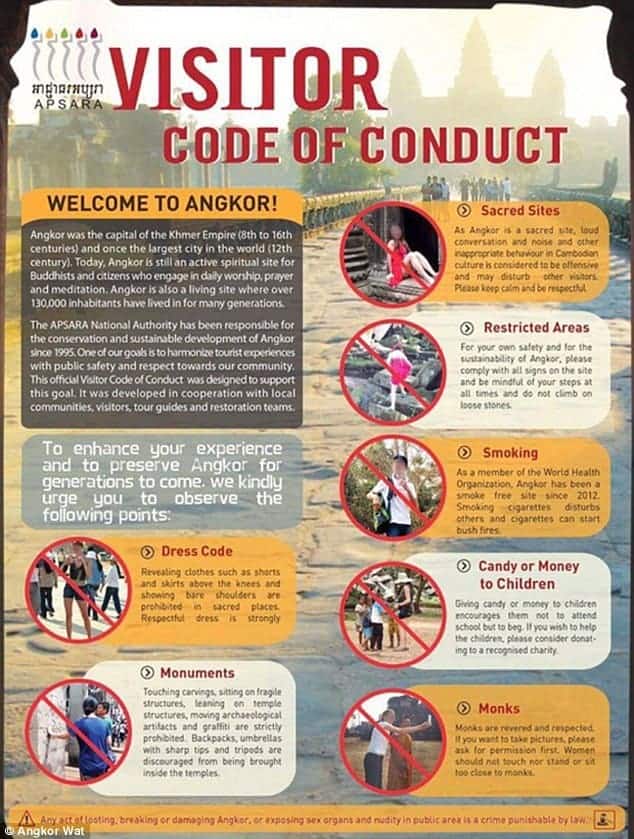 Besides the new opening times at Angkor, a new code of conduct for tourists has just been published, in time for the tourist season. The code, which is summarised as a poster for visitors explain the appropriate behaviours in the temples – such as not taking selfies with monks and also not stripping naked in public.
Angkor Wat to open earlier as it imposes code of conduct for tourists
The Telegraph, 11 November 2015
'Exposing sex organs is a crime punishable by law': Angkor Wat introduces new code of tourist conduct that bans stripping naked, smoking and taking selfies with monks
Daily Mail, 13 November 2015
Angkor Wat in Cambodia is to open earlier so that more people can see it – but visitors will have to abide by a new code of conduct put in place around the site.

From January 1, the main Khmer temple of Angkor, Angkor Wat, alongside smaller Phnom Bakheng, will be opening two hours earlier, from 5.30am, in order to cater for those wanting to see sunrise from the temples.

In the meantime, a code of conduct has been published on posters outside temples in an attempt to curb the inappropriate behaviour of some of the thousands who already visit each year.
Cambodian monks, tour guides, local authorities and Unesco representatives spent two years discussing the types of behaviour that they would like to see eradicated from the important Khmer site.